Fountains 2021 / 2022
Year 4 Multiplication Check
Thank you to all the parents that attended the multiplication meeting. All the information shared can be accessed below. If you have any questions, please ask. Many Thanks, Miss Gibson.
Check out our TTRockstar Studio Star!
PE
This term we have been learning about mountains and rivers in our Geography topic and we used this for our inspiration in PE, where we choreographed a dance, using a variety of moves that represented the water! We loved creating this and we all had a part to play in the choreography... we hope you enjoy watching!
Science
This term we have loved our super science! We have been learning about electricity and investigating electrical circuits, conductors and insulators.
Autumn Term 2021
This year Fountains have the fantastic opportunity to learn the cornet with Doncaster Music Service. We are thoroughly enjoying our weekly lessons so far and we sound great!
Welcome to Fountains 2021/ 2022
We have had a great start to the year, the children have been loving their new book 'The Firework Maker's Daughter' and they have blown Miss Gibson, Miss Sellars and Miss Bateson away with their imaginative ideas for a setting description. We cannot wait to share some of our writing with you!
Stars of the Week
Friday 6th May: Ethan, Bailey G, Junior, Riley and Bailey P for engaging English!
Friday 29th April: Lily, Oliver and Jenson for being magical musicians!
Friday 8th April: George, Raffe-J, Amelia and Olivia for their reflective RE work!
Friday 18th March: Lily and Ethan for being super scientists!
Friday 11th March: Bobby for being a marvellous mathematician!
Friday 4th March: Olly and Harry for being great gymnasts!

Friday 25th February: Junior for being an amazing artist!
Friday 11th February: Zara and Ewan for being dynamic diversity learners!
Friday 4th February: Jenson and Bailey for being fantastic in French!
Friday 28th January: Drew and Oliver for being heroic historians!
Friday 21st January: Lewis and Henry for being wonderful learners of world faiths!
Friday 14th January: Amelia and Olivia for being wonderful at writing!
Friday 3rd December: Raffe-J and Keevah for being amazing at PSHE!
Friday 26th November: Eva and Ewan for being awesome artists!
Friday 12th November: Erin, Ethan and Lewis for being Super Scientists!
Friday 5th November: Riley and Zara for being reflective RE learners!
Friday 15th October: George and Henry for being amazing historians!
Friday 8th October: Lucas for being a musical maestro!
Friday 1st October: Lily and Olly for being Super Scientists!
Friday 24th September: Bailey and James for being stars at listening and communicating!
Friday 17th September: Olivia and Daisey for being remarkable readers!
Friday 10th September: Amelia and Bobby for an impressive start to the school year!
Fountains 2020 / 2021
Summer Term 2021
We are having a great Summer term and the children are loving their new book 'Why the Whales Came'. The book has inspired us to look after our beaches and we have been getting creative with our language as we write a persuasive proposal to send to Coastguard UK. Fountains class have also been learning all about Vikings this term and have impressed us all with their Viking Poems.
Spring Term 2021
It has been great to welcome back our new group of Fantastic Fountains! Although there are some small differences, the children have continued to show their love for learning and their work has been impressive. We have been using the book 'Charlotte's Web' to explore habitats in our Science lessons.
Autumn Term 2020
This half term Fountains have been beginning everyday with a mindfulness activity that ensures we remain happy learners, ready for the challenges of each day!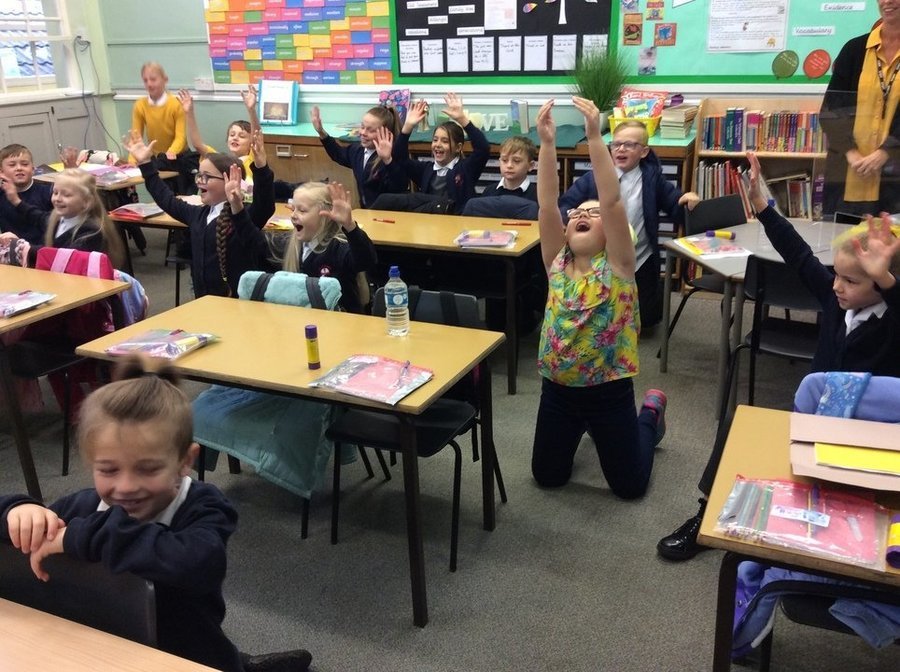 Fountains have been loving our class text this half term 'The Firework Maker's Daughter' and have been inspired to write an impressive setting description and a dramatic narrative based on the book.
We have really enjoyed our exciting science experiments where we have been investigating how solids, liquids and gases work. Also, we have engaged in thought-provoking, inspirational discussions during our R.E lessons where we have looked at Jesus' family tree and reflected on how important our own families have been this last few months!
Harvest Festival
Thank you so much for your generosity when collecting food for our community, we were blown away by the amount that was donated!
Fountains enjoyed their Harvest liturgy, where we celebrated and gave thanks for all the food and good things we have in our lives. The children sang, read and we prayed for those less fortunate than us during the beautiful service.
Summer Term 2021
Harry has been working hard at school and planting to make the outdoor space look beautiful for when we all return. Well done Harry!
A poem written by a member of our Fantastic Fountains
Lockdown is boring what more can I say,
Stuck in my house every single day .
Can't go to the field,
or to the shops,
or to the park,
or the crags at the top!
I play video games with my brother Zac, we kill bots with scars and tacks.
We have been in the garden sat in the sun , playing some cricket and having some fun.
Watching films and listening to songs, I hope this lockdown won't last long.
What we have to do to stop this mess, is stay inside and protect the NHS.
**************************************
Fountains Home Learning - Exciting Writing
Fountains have been producing some amazing Exciting Writing! We have loved reading all your letters and poems, please keep them coming!
Well Done Fountains!
Fountains Home Learning
Fountains are really enjoying their home learning and are engaging in a variety of different activities.
One child has been helping clear out their pond and found a frog under the algae, he then went inside to look up the various definitions of words related to what he had discovered, such as algae, bulrush and tadpoles!
We have children taking on the challenge of a 1000 piece jigsaw in between their English work and pupils have been out in their gardens, working hard on their online learning, baking and enjoying sports in the sunshine!
We can't wait to see what else Fountains have been up to, keep up the great work!
Spring Term 2020
Fountains H20 Exhibition
Fountains have really enjoyed their H2O topic this term with an in depth look at D-Day. Fountains have created incredible artwork with a focus on the dramatic sea scenes, they have immersed themselves into the mind of a soldier with detailed recounts from the 6th June 1944 and have learned war time songs such as 'It's A Long Way to Tipperary' and 'Pack Up Your Troubles'.
Despite parents being unable to attend our Exhibition, Fountains still went ahead and showcased their masterpieces. We set up an art gallery for the children to admire their friends work, we shared our recounts and performed our songs. Here is a snapshot from our wonderful afternoon, celebrating Fountains' hard work.
Autumn Term 2019
Fountains have begun their Mission topic with investigative science skills looking at how solids, liquids and gases work. We are also enjoying our class focus book, 'The Firework Maker's Daughter' and have produced some dramatic descriptions for our White Gold writing as well as some superb sketches of the setting for our book. Parents be prepared to be wowed when you come into class for Parents' Evening!
Our story of Ruth freeze frames in our R.E Topic 'People'.
Fountains 2019 / 2020
Pit Sense
In the Pit Sense project, Fountains learnt about Askern Colliery and worked together to create an information board. They researched on the internet and completed their own half and half sketches.
Fountains loved completing the orienteering course and finding out more about the different collieries!
Summer Term 2019
Fountains took part in a special careers event at Doncaster Sheffield Airport. The children had talks from the mayor of Sheffield, fire fighters, air traffic controllers and many more. Two lucky pupils also had the important role of unveiling the new sign on the Airport's terminal. We even finished the morning off with an ice cream!
Spring Term 2019
This Term our school topic is Passion. In Fountains, we are focusing on the passionate people involved in World War Two. We have created our own WW2 timelines, propaganda posters, skyline silhouettes and drawn famous leaders. Our class book is 'Perry Angel's Suitcase' and we have used the book to inspire our own letter writing and Winston Churchill biographies.
In science, we have been learning about electricity and we now know what it is, how to use it safely, what conductors and insulators are and we have even made our own switches! We have set up practical enquiries, made predictions and recorded and reported on findings.
In Music, we have started to learn about poetry, including rap. Have a listen to our rap so far...
Autumn Term 2018
This term our school topic is Moments. In Fountains, we are looking at different moments in The Shang Dynasty. We have made our own Shang Dynasty timelines and created Oracle bones.
Our class book is 'The Firework Maker's Daughter' and we have used the book to inspire our setting descriptions, non-chronological reports and Haiku poems. Using the book we have also created volcanoes, firework art and our own firework dances!
Our Year 4 class represented the school at the Cenotaph in Denaby to commemorate the Remembrance Day Centenary.